MIRATOR THEME ISSUE 2005
Proceedings from the Symposium "Virtually Medieval?"
Preface
Anu Lahtinen, Getting Virtually Medieval
Virtual Archaeology
Hannele Lehtonen, Virtual Archaeology - What Is It?
Kirsi Majantie, 3D-Measurements of Sixteenth-Century Stove-Tiles
Terhi Mikkola, Modelling the Past of Häme Castle
Virtual Experiences
Isto Vatanen, Decoding and Encoding Middle Ages: Biases and Promises of Computer Graphics and
Information Systems for Medieval Scholarship
Henrik Summanen, Virtually Medieval - Webb, telecom och kulturarv
(Summary: Virtually Medieval - Web, Telecom, and Cultural Heritage)
Petri Saarikoski, Keskiajan fantasia: J. R. R. Tolkienin Keskimaa digitaalisessa pelikulttuurissa
(Summary: Medieval Fantasy: J. R. R. Tolkien's Middle-Earth in Digital Gaming Culture)
Virtual Text Databases
Claes Gejrot, Diplomatarium Suecanum in the Digital World
Virtual Pedagogy
Jonas Carlquist, Filologi via nätet: Internet som verktyg för forskning och undervisning om medeltidens texter
(Summary: Philogy on the Internet: Internet and philogical studies)
Jussi Hanska, Teaching Medieval Latin Palaeography on the Net: Pros and Cons
Jari Eilola, Marko Lamberg and Seija Tiisala, Från Runeberg till runor:
ett försök att bevara kännedomen om "gammalsvenska" i dagens Finland
(Summary: From Runeberg to Runes:
an Attempt to Preserve the Knowledge of Older Forms of the Swedish Language in Modern Finland)
Edited by Marko Lamberg and Elina Räsänen
Linguistical proofreading: Judy Gerjuoy and Michael Foster
This first theme issue of Mirator features articles on how to combine medieval studies with the new virtual and digital technology. The articles are based on lecturers given at the symposium "Virtually Medieval?", which was held in Turku, Finland, on 10th and 11th December 2004.
The symposium was organised by Mirator in cooperation with the Department of History at the University of Turku and Glossa - the association for medieval studies. The event received financial support from the Cultural Foundation for Finland and Sweden, Letterstedtska föreningen and the Academy of Finland.
Below are a couple of pictures taken during the symposium: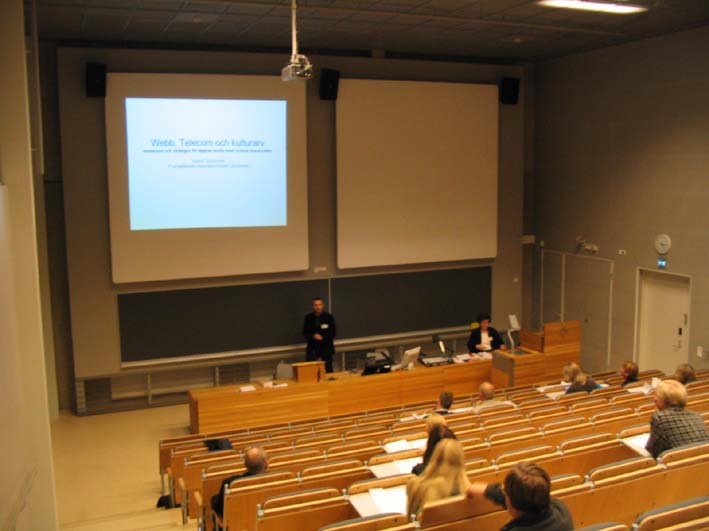 The event was attended by approximately 50 participants from Finland, Sweden and Estonia.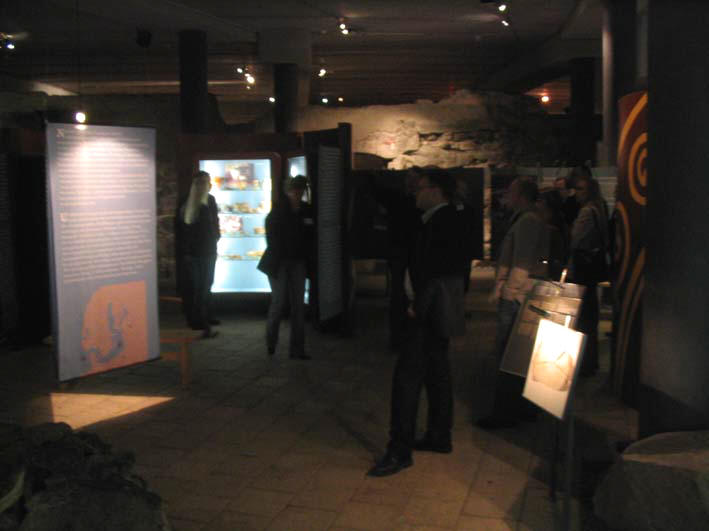 The invited guests were offered a possibility to visit Aboa Vetus, a museum built among ruins of ancient Turku.
---
(11.11.2005)