(Editor's note: this is a translation, click here for the original essay in English!)
Philip Line, kääntänyt englannista Anita Geritz
Kuten varmaan monet keskiajan tutkijat, mietin joskus, kenet keskiajan kuuluisista (tai surullisenkuuluisista) henkilöistä haluaisin tavata jos ajassa olisi mahdollista matkustaa taaksepäin. Minä valitsisin Albertus Magnuksen (Albert Suuri, n. 1195-1280). Tähän mennessä kuitenkin läheisin kohtaamiseni Albertin kanssa on ollut hänen luonnonfilosofisten teostensa kautta. Näihin olen perehtynyt osana tutkimustani keskiaikaisista (inhimillisistä) asenteista (ei-inhimillisiin) eläimiin.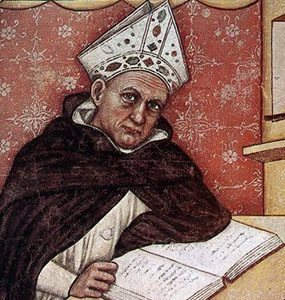 Toisin kuin hänen kuuluisampi aikalaisensa Thomas Akvinolainen, Albert ei ole kovin tunnettu Saksan ulkopuolella, vaikka myöhäiskeskiajan Euroopassa hän oli kuuluisa. Nykynäkemykset hänen kyvyistään ovat vaihdelleet. James Hannam katsoo hiljattain julkaistussa kirjassaan keskiajan tieteestä, että Albertin pääasiallinen ansio oli hänen kykynsä tunnistaa Tuomaan lahjakkuus tämän ollessa Albertin oppilaana Pariisissa. Yksi 1500-luvun Aristoteleen kommentaattori, Augustino Nifo, mainitsi harvoin Albertin näkemyksistä Aristoteleen filosofiasta lisäämättä pisteliäitä kommentteja, kuten "Albert höpisee jälleen". Mutta mitä Nifo sitten ajattelikaan, Albert nähtiin hänen aikanaan yhä arvovaltaisena. Albert tunnettiin omana aikanaan nimellä doctor universalis, sillä hän kirjoitti käytännössä jokaisesta filosofian ja teologian alasta ja ryhtyi kirjoittamaan kaikista Aristoteleelta tunnetuista teoksista kommentaaria, josta suurimman osan hän sai valmiiksi ennen kuin kuoli kunnioitettavassa iässä.
Albertin luonnonfilosofia
Useat nykytutkijat ovat huomauttaneet, että Albert hyödynsi teoksessaan De animalibus (Eläimistä) paljolti aikalaisensa ja ystävänsä, dominikaaniveljen Tuomas Cantimprelaisen teosta Liber de natura rerum, mutta että toisin kuin Tuomas, Albert ei maininnut käyttämiään lähteitä. Tämä on totta, mutta kaikki, jotka tuntevat keskiajan oppineiden metodit tietävät, ettei toisten työn lainaaminen vailla lähdemerkintää ollut keskiajalla tavatonta. Silloinkin kun kirjoittaja listasi lähteensä (kuten Tuomas), harvoin eriteltiin mistä lähteistä eri tiedot olivat peräisin. Keskiajan scientia ei ollut modernia tiedettä, minkä vuoksi viittaamme Albertiin ja hänen kaltaisiinsa oppineisiin luonnonfilosofeina emmekä luonnontieteilijöinä. Keskiajan oppineet ammensivat paljon heidän käytössään olleista klassisista teoksista ja kirkkoisien kirjoituksista. Kuten Paavali oli sanonut, "tietomme [Jumalasta ja hänen aikomuksistaan] on vajavaista" – uskottiin, että tätä tietoa oli mahdollista saavuttaa ainoastaan käyttämällä logosta (kieltä ja järkeä), joka oli Jumalan lahja ihmisille. Kukaan luonnonfilosofi ei ollut tavoitellut empiiristä todistusaineistoa sitten Aristoteleen, eikä meillä ole tietoa hänen metodeistaan. Kaikille keskiajan oppineille tärkein lähdeteos oli tietysti Raamattu, jossa todettiin, että Jumala oli luonut ihmisen omaksi kuvakseen ja asettanut tämän hallitsemaan eläimiä: Jumala oli myös valtuuttanut ensimmäisen ihmisen nimeämään eläimet. Aatami nimeämässä eläimiä oli yksi suosituimmista kuva-aiheista keskiajan ikonografiassa.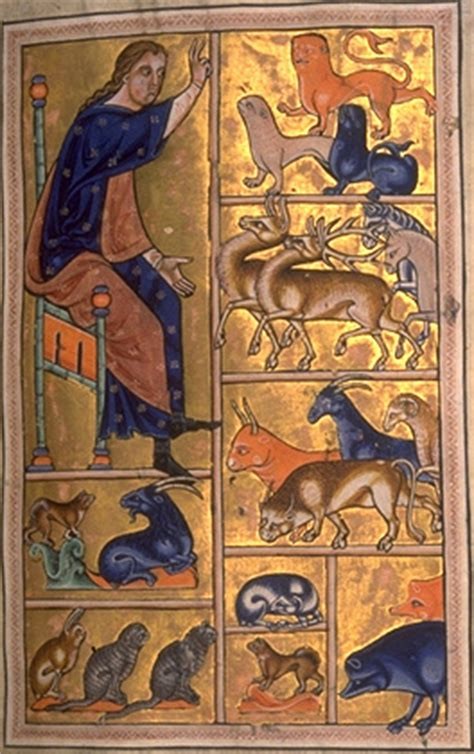 Kirkkoisien (erityisesti Augustinuksen) teoksilla oli valtava auktoriteetti Jumalan tarkoitusperien ja toimintamenetelmien selittäjinä. Muita lähteitä luonnosta ja erilaisista eläimistä olivat klassiset oppineet kuten Plinius, Solinus ja Aelianus ja 600-700-luvulla kirjoittanut piispa Isidorus Sevillalainen, joka teoksissaan kokosi yhteen antiikin tietoa. Keskiajan filosofien ensisijainen kiinnostus maailmaa havainnoidessaan oli ihmisten paikka maailmankaikkeudessa. Luomakunta nähtiin Jumalan työnä, joten sen luonto ilmaisi Jumalan tahtoa. Eläimet olivat osa tätä luomakuntaa, mutta teologit ja filosofit olivat kaikkein kiinnostuneimpia ihmisten oletetusta kyvystä ymmärtää jossain määrin Jumalaa ja tämän luomuksia, ihmisten transsendenttista luonnosta ja kyvystä ylittää materiaalisen luonnon rajat.
Moni filosofi koki, että heidän oli ymmärrettävä ihmisluonnon eläimellinen osa ymmärtääkseen, kuinka ihminen poikkesi eläimistä. Kuitenkin harva oli kiinnostunut eläimistä sinällään ja Augustinuskin oli varoittanut hankkimasta tietoa tiedon itsensä vuoksi. Albert Suuri oli poikkeus, sillä hän osoitti aitoa kiinnostusta eläimiin ja näiden toimintaan ja teki empiirisiä havaintoja ja kokeita testatakseen omia ajatuksiaan tai perinteisiä oppeja. Monia hänen käyttämistään metodeista ei kelpuutettaisi enää. Hän esimerkiksi käytti hämähäkkejä salamantereiden sijaan kokeillessaan, olivatko liskot todella tulenkestäviä, kun salamanteria (suom. myös pyrstösammakko) ei löytynyt testattavaksi. Samaan tapaan emme useinkaan hyväksyisi Albertin tapaa käyttää analogioita tai vastakkainasetteluita: teoksessaan De mineralibus hän hyödyntää analogiaa eläinten lisääntymisestä selittääkseen joidenkin mineraalien syntyä, tosin kieltäen, että mineraalin ominaisuudet (virtus) polveutuisivat mistään siemenestä. Ihmiset väistämättä käyttävät allegoriaa, sillä voimme verrata uusia asioita vain meille jo tuttuihin asioihin, mutta analogioita käyttäessä pitää modernissa tieteessä olla huolellinen. Albert ei ollut animisti, mutta hän käytti analogiaa meidän näkökulmastamme epätieteellisesti koska katsoi, kuten muut keskiajan luonnonfilosofit, että kaikki luonnonesineet ja olennot toimivat samalla periaatteella ja johdonmukaisella tavalla, Jumalan kaitselmuksen vaikutuksesta. Jumala ei ollut kivessä, mutta kivissä saattoi olla Jumalan antamia erityisiä voimia. Albert näki luonnon kaikenkattavana: luontoon kuuluivat Jumala ja ikuisuus, taivaankappaleet, maalliset kappaleet sekä myös kivet, mineraalit ja maanpäälliset olennot joilla oli sielu, eli eläimet ja kasvit.
Olen maininnut useita Albertin työn kyseenalaisempia piirteitä, mutta hän myös kehitti monella tapaa eteenpäin keskiaikaista luonnonfilosofiaa. Albert joskus jopa tunnisti ongelmia, joita kohtaamme tänäkin päivänä, kuten eläinten luokittelun ihmisen kehittämän järjestelmän mukaisesti eläinten piirteistä piittaamatta, mikä väistämättä vaikuttaa käsitykseemme eläimen asemasta luonnossa. Albert mainitsi tämän omaksuessaan vastentahtoisesti oman aikansa lääketieteellisissä teoksissa yleisen ja meillekin tutun aakkosellisen järjestyksen, joka on kätevä tiedon löytämiseen hakuteoksesta mutta joka ei ota huomioon mitään listattujen kohteiden ominaisuuksia, ainoastaan näiden nimien ensimmäisen kirjaimen. Vaikka keskiajalla eläinten nimien ajateltiin kuvastavan näiden luontoa koska eläimet oli nimetty pian luomisen jälkeen, ensimmäinen kirjain ei ollut merkityksellinen. Albert myös torjui monia eläimiin liittyviä uskomuksia, jotka olivat vakiintuneet bestiaareissa ja ensyklopedioissa, kuten että majava jyrsi irti kiveksensä ja heitti ne metsästäjiä kohti pelastaakseen nahkansa tai että hanhet syntyivät merirokosta.
Aristoteleen kristillistäminen
1200-luvun tieteellisten edistysaskelten perusta oli rakennettu edellisellä vuosisadalla skolastiikan nousun ja yliopistojen synnyn myötä, mutta Albert ja Tuomas Akvinolainen tekivät enemmän kuin ketkään muut sovittaakseen Aristoteleen tieteen yhteen kristinuskon kanssa. Aristoteleen opit olivat tulleet epäilyksenalaisiksi, ei ainoastaan koska Aristoteles oli kreikkalainen pakana, vaan myös koska suuri osa tämän töistä oli kadonnut latinankielisestä Euroopasta varhaisella keskiajalla ja saatiin takaisin vasta arabiankielisten käännösten ja kommentaarien myötä. Tämä uusi materiaali sisälsi käytännössä kaikki Aristoteleen teokset eläinopista. Albertille Aristoteleen metafysiikka (ensimmäisen prinsiipin tutkiminen) vastasi teologiaa (Jumalan tutkiminen). Aristoteleen tiede on aikaa sitten hylätty, mutta 1200-luvulla se oli suuri edistysaskel aiempaan verrattuna.
Aristoteleen kategorioiden omaksumisen myötä raja ihmisten ja muiden eläinten, eri eläinryhmien ja jopa eläinten ja kasvien välillä kaventui: kuten Aristoteles oli kirjoittanut, "luonto etenee elottomasta eläimiin niin pienin askelin, ettemme sen jatkuvuuden vuoksi erota, kummalle puolelle niiden välinen raja ja keskikohta asettuu" (Historia animalium VII: 588b1). Persialainen yleisnero Avicenna (n. 980-1037) oli kehittänyt Aristoteleen argumentteja eteenpäin. Pohjaten sekä Aristoteleeseen että Avicennaan, Albert esimerkiksi huomautti, että zoofyytit eivät olleet kaukana kasveista. Zoofyytit liikkuivat, mutta vain laajentumalla ja supistumalla eivätkä voineet siirtyä yhdestä paikasta toiseen. Siten liikkeestä (joko in loco tai ad loco) tuli eläimiä määrittävä piirre. Määrittävä ero ihmisten ja eläinten välillä sen sijaan oli ihmisen kyky järkeillä, ihmisen omaama rationaalinen sielu. Vaikka Augustinus oli keskiajan oppineiden mielissä osoittanut lopullisesti (ammentaen monen häntä edeltävän filosofin, niin pakanoiden kuin kristittyjen, teoksista), että maan elävistä olennoista vain ihmisillä oli vapaa tahto ja kyky järkeillä. Keskiaikaiset ajattelijat esittivät, että kaikki ihmisten fyysiset vahvuudet, kuten kädet ja kahdella jalalla kävely, oli annettu tukemaan ihmisen rationaalisuutta. Kyky järkeillä tarkoitti, että vain ihmiset saattoivat tuntea Jumalan ja tämä Jumalan tunteminen teki mahdolliseksi ihmisen sielulle selvitä fyysisen ruumiin kuolemasta. Mitä maallikot uskoivatkaan, ainakin keskiajan oppineet katsoivat, että eläimillä oli kyllä sielu, mutta se oli kytketty ruumiiseen eikä useimpien mielestä selvinnyt sen tuhoutumisesta.
Eläimet rationaalisuuden kynnyksellä?
Aristoteles oli esittänyt, että elävät olennot jotka kykenivät kasvamaan, syömään, lisääntymään ja toimimaan muutoin mutta jotka eivät tunteneet tai reagoineen ympäristöönsä omasivat vegetatiivisen tai nutritiivisen sielun. Olennot jotka elivät ja reagoivat ympäristöönsä mutta eivät olleet rationaalisia omasivat myös tuntevan sielun. Ne olennot, jotka eivät ainoastaan olleet elossa ja tietoisia vaan jotka kykenivät myös rationaaliseen ajatteluun ja vapaaseen tahtoon omasivat vielä rationaalisen tai älyllisen sielun. Vain yhdellä lajilla, ihmisillä, oli sielu sen kaikista kehittyneimmässä, kolmiosaisessa muodossaan. Koska ihmisillä oli älyllinen sielu, he pystyivät määrittämään universaaleja eli johtamaan havainnoista yleisemmän ymmärryksen asioiden luonteesta, mikä oli jälleen keskiaikaisessa ajattelussa oleellista Jumalan ymmärtämisen kannalta. (Keskiaikaiset ajatukset universaaleista – ja siitä oliko niitä olemassa – ei ole tutkimusaihe heikkohermoisille, joten en yritä avata sitä tässä sen syvemmin!)
Miten sitten myöhäiskeskiajan luonnonfilosofit selittivät sen, kun eläimet näyttivät tekevän päätöksiä tai suunnittelevan tulevaa? Useimmat seurasivat Avicennaa, jonka mukaan eläimillä oli jonkinlainen vaisto, estimativa, jolla he arvioivat vaaraa tai ruuan syömäkelpoisuutta, mutta tämä ei ratkaissut kaikkia ongelmia: esimerkiksi linnut valmistautuivat poikastensa syntyyn tai muurahaiset kesän tuloon rakentamalla pesiä. Albert myönsi, että eläimillä oli hänen sanojensa mukaan "järjen varjo". Myöhemmät ajattelijat keksivät erilaisia selityksiä, mutta Albertin tapaan heidän täytyi pitäytyä teologisessa imperatiivissa, että vain ihmisillä oli todellinen järki ja rationaalinen sielu. Aristoteleen teorioiden hylkäämiseen oli vielä pari vuosisataa, mutta niitä koeteltiin etenevissä määrin. Jean Buridan (n. 1300-1358/61) esimerkiksi huomautti jopa, ettei ihmisillä ole mitään tapaa tietää tarkalleen mitä eläinten mielissä liikkuu kun ne tekevät päätöksiä. Jos Albertin kaltaisten luonnonfilosofien "tiede" näyttää meistä ennemmin pseudotieteeltä ja keskiajan eläinten luokittelu elinympäristön ja liikkumisen tavan mukaan vaikuttaa vanhentuneelta, tulisi meidän muistaa, että Albertin ja muiden hänen kaltaistensa luonnonfilosofia oli valtava edistys aiempaan kysyessään miksi asiat olivat niin kuin olivat. Voimme myös kysyä missä määrin meidän asenteemme eläimiin ovat parempia kuin keskiaikaiset asenteet. Evoluution tuntemuksestamme huolimatta ihmiset yhä mieltävät itsensä luomakunnan kruununa ja puhtaaseen biologiaan perustuva taksonominen järjestelmämme jättää miltei kaikki muut luokittelutavat pimentoon eikä ota lainkaan huomioon muiden kuin ihmisten moraalista arvoa.
---
Philip Line on kirjoittanut kirjaa keskiaikaisista asenteista eläimiin muutamia vuosia ja tekee nyt tutkimusta Koneen säätiön rahoittamassa projektissa 'Ihmisen naapurit ja kumppanit: Muunlajisten eläinten luonne ja asema antiikin ja keskiajan filosofiassa, kirjallisuudessa ja kulttuuriperinteessä' yhdessä useiden muiden tutkijoiden kanssa.
---
Kirjallisuusluettelo
Painettuja lähteitä:
Magnus Albertus, B. Alberti Magni, Batisbonensis Episcopi, Ordinis Praedicatorum, Opera Omnia: Animalium Lib. XXVI.; Pars Altera, XIII-XXVI (Lontoo: Forgotten Books, 2017)
Albert Suuri, Book of Minerals, kääntänyt Dorothy Wyckoff (Oxford: Oxford University Press, 1967)
Albert Suuri, Man and the Beasts: De Animalibus (Books 22-26), Medieval and Renaissance Texts and Studies 47 (New York: Center for Medieval and Early Renaissance Studies, 1987)
Albert Suuri, On Animals: A Medieval Summa Zoologica, kääntänyt ja toim. K.F. Kitchell, Jr. ja I.M. Resnick, 2 vols (Baltimore: John Hopkins University Press, 1999)
Albert Suuri, On the Causes of the Properties of the Elements, kääntänyt Irven M. Resnick (Milwaukee: Marquette University Press, 2010)
Albert Suuri, Questions concerning Aristotle's On Animals, kääntänyt Irven M. Resnick ja Kenneth F. Kitchell, Jr. The Fathers of the Church: Medieval Continuation, 9 (Washington, D.C.: CUA Press, 2008).
Kirjallisuutta:
De Leemans, Pieter, jaMatthew Klemm, "Animals and Anthropology in Medieval Philosophy", teoksessa Brigitte Resl, toim., A Cultural History of Animals in the Medieval Age, A Cultural History of Animals, 2 (Oxford: Berg, 2007), 153-77
Honnefelder, Ludger, toim., Albertus Magnus and the Beginnings of the Medieval Reception of Aristotle in the Latin West: From Richardus Rufus to Franciscus de Mayronis (Münster: Aschendorff, 2005)
Oelze, Anselm, Animal Rationality: Late Medieval Theories 1250-1350 (Leiden: Brill, 2018)
Resnick, Irven M., toim., A Companion to Albert the Great (Leiden: Brill, 2013)
[Ei heikkohermoisille:] Spade, Paul V., toim. ja esipuhe, Five Texts on the Mediaeval Problem of Universals: Porphyry, Boethius, Abelard, Duns Scotus, Ockham (Indianapolis: Hackett Publishing Co., 1994)
Hannam, James, God's Philosophers: How the Medieval World Laid the Foundations of Modern Science (London: Icon Books, 2010)